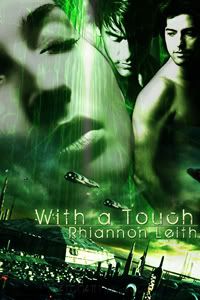 ISBN

:
978-1-60504-967-0
Cover art by Kanaxa
Kidnapped by rebels…or rescued by love?
The Guild Chronicles, Book 1
As a prized psychic, Eva's lived her entire life inside the Guild Compound. While sex isn't exactly forbidden, she's rarely indulged—such encounters could swamp her sensitive gift.
A chance encounter with Aidan, a sexy Guild Security Officer, rocks her to the core when she sees herself entangled in his arms. She fights the unfamiliar surge of lust and tries to focus on the job at hand, the interrogation of the subversive Rafael. Yet she discovers that he's no terrorist. In fact, his capture is a ploy, a way for him and Aidan to infiltrate the Guild with one goal in mind: Eva.
At first Eva fights her captors, but once outside the Guild's sheltered walls, she realizes she is free. Free to live and love as she pleases. And her two rebels please her indeed, introducing her to erotic pleasures she never imagined. They break down the barriers imposed on her mind and body, making her question everything she's ever known.
Even as Eva dares to dream of a future with her lovers, she fears for their lives. The Guild wants her back. And that's not all they want…
Warning: Contains two irresistible rebels working "undercover" to win the woman of their dreams, an evil corporation, rough sex, tender sex, sex with mild bondage, sex intensified by psychic connections and an oh-so-passionate ménage à trois.
Buy from MBaM!
A Shifter, A Vampire and A Demon walk into a bar…
Shifting Reality, Book 1
Thomas Lyons is your average cat shifter. Cool, seductive…and bored out of his mind. With the new popularity of all things paranormal, he doesn't see why he should hide anymore. When his half-demon technophile roommate hooks him up with a computer, Thomas starts a blog announcing to the world who and what he is. Oddly enough, the more he shares, the less he's believed. In fact, people begin thinking it's a new online series with fantastic effects.
Margo Sheffield doesn't dance on tables anymore, not since her reckless naïveté cost her so much. These days, her only guilty pleasures are dark chocolate, shoes—and a certain website with a man whose purring voice sends shivers down her spine. When the show, Shifting Reality, offers a week in a haunted Scottish castle with the stars, it seems a far-off dream. But when that dream becomes reality, her boss's insistence that she mix business with pleasure—or else—is more like a nightmare.
Thomas's focus on the show is blown by the luscious, camera-shy handful. And Margo can barely think about contracts when she's surrounded by newlywed ghost hunters, a matchmaking demon and a man whose addictive touch makes her head spin. A showmance is the last thing she needs, but with a sexy cat like Thomas on the prowl…she just can't resist.
Warning: Tons of explicit sex.
Buy
Here